Windows 10 version of Operating System from Microsoft releases updates very frequently. It has many added functionalities and functions. Many of them are not even used by majority of users and are just occupying your space in disk. Many services are not required but are running in background and causing performance issues is windows based systems. This operating system is not only bulky but also demands more computer resources to run. If the resources are not managed adequately, it will caused performance issues. Many users using windows 10 operating system, faces performance related issues. Below are 10 best tips to enhance and improve your PC performance running on windows 10 operating system.
1.

Installing Latest Updates
If you have disabled automatic windows updates, then at-least weekly basis, you must check for updates and install into your system. You should also ensure that you are using latest drivers for any third party software you have installed.
Start
>>
Settings
>>
Update & security
>>
Windows Update
>
Check for updates
.
2.

Restart Your Computer Frequently
If you are keeping your PC/Laptop in hibernate mode for longer days, it may have many apps opened and which are not even in use. You should reboot your computer frequently to avoid unwanted consumption of memory by unwanted apps. You might have older version of third party apps. Just update the version of that app as well.
Start>> Power >> Restart
3.

Analyse Memory and Usage
First, please ensure that you have enough memory. Anything less than 4 GB is really not worth to have for windows 10 based laptop/ PC. If that is the case, please increase your hardware.

Still, the performance issues. Please check what is eating up the memories and if you found anything not inline, just remove or find the root cause of over usages of memory by specific app.
"CTRL+ALT+DELETE" >> Task Manager >> More Details >> Performance Tab >> Memory
4. Check Disk Space
Check for available disk space. If it is already crossed threshold, please create some space by deleting unwanted files.Start >> Setting >> System >> Storage

If free space is at lower levels. Try creating additional space by following any of below method

Delete Temporary Files. Start >> Setting >> System >> Storage >> This PC >> Temporary Files

Select Temporary file >> Remove Files

Select Recycle Bin >> Remove Files

Analyse another space consumption and take action
5.

Optimize Startup Programs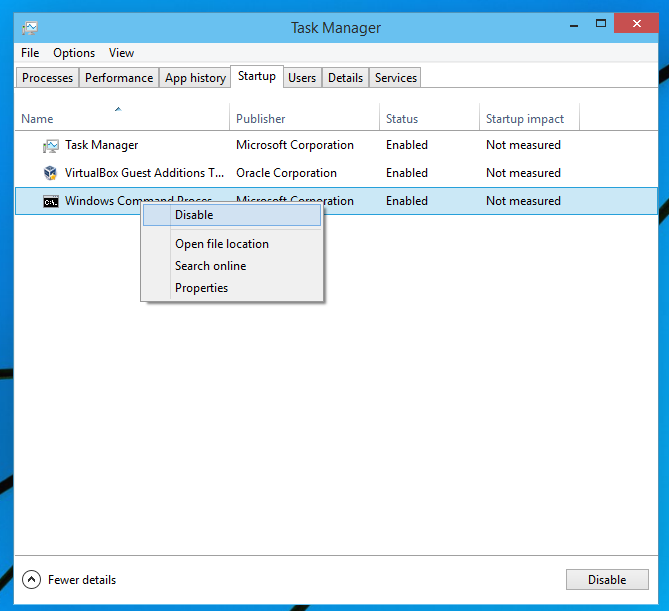 You need to check and ensure that no unwanted programs are running in background which actually starts automatically. To find and disable the undesired auto start of programs at startup, please follow below steps.
Start >> Apps >> Startup

Check which program you want to remove from auto startup

Set it to Off /Disable position.
Caution :- Avoid disabling any program to start up where you are not pretty sure. Some third party apps may start misbehaving.
6.

Check for Malware, Adware and Viruses
If you are using a good anti virus and having auto update mode on, there are still chances that your PC might be infected with Malware/ Adware or Viruses. You need to check immediately and take appropriate actions. Follow below steps to check the status.
Go To

Virus & threat protection

>>

Scan now

If you found any Malware or Virus then run recommended ADVANCED SCAN.

Please note, it may take longer time as it will scan in deep.
7.

Check Corrupted Windows System Files
Make use of DISM (Deployment Image Service Management Tool). Its a utility which scans the corrupted windows system files. If any issue found it will try to replace the problematic system files from the cached version.
Windows Search Box on Task Bar >> Type "powershell"

Press and Hold on icon and Right Click

Run as Administrator

On Prompt type dism.exe /Online /Cleanup-image /Restorehealth (Check Space before every / )

Press Enter
8.

Adjust Appearance and Performance
Windows 10 includes many visuals and animations in built. These small programs always runs with any app and consumes some space in memory. If you are having performance issues, you may have to adjust the setting for best performance. To do that, follow below steps.
Windows Search Bar

Type performance
Select Visual Effect Tab
Select Adjust for Best Performance

Apply
If you are using OneDrive to store your files, it may cause performance issues. It may be syncing the files in background but with slow pace. There can be many factors for that. The check and adjust the OneDrive sync, follow below steps.
Right Click Start Button

Select File Explorer

Right Click OneDrive Folder

Chose OneDrive Folders to Sync
Uncheck

Sync all files and folders in OneDrive

Check Box

Press OK
To get performance, you can also reset your PC.

This should be last thing to try out.
When you reset your PC, there are options to keep the personal files or remove.

Based on your selection windows will reset the OS.

BACK UP YOUR DATA FIRST

Start

>>

Settings

>>

Update & security

>>

Backup

>>

Add a drive

Select

More options

>>

Back up now

.

Note :- Back may take longer time as per the data you want to backup.

Reset Your PC

Settings

>>

Update & security

>>

Recovery >>

Reset this PC >>

Get started

Restore Data After Restoring
Note : Depending upon data, It might take several minutes for Windows to restore your files.
Hope this helps. More details explanation available Here